A human touch to your brand.
Conversations are constantly taking place in social media. From the latest product release, the latest BuzzFeed quiz, social media is as real-time as you can get. People aren't just waiting to talk about an interesting tidbit or piece of content the next day; they're talking about it now. This is exactly what happens when it comes to live tweeting an event. Sure, people do write-ups on conferences a day or two after the event wraps, but attendees are frivolously tweeting out the latest stat they're hearing DURING the session. With industry conversations and information being shared in real time, it makes sense for a brand to join in on these conversations. Not only does it help from a brand awareness standpoint but it's a great way to build credibility in the industry and to humanize the brand as well.
Live tweeting industry events is a great way to connect with like-minded people that are interested in what your company cares about.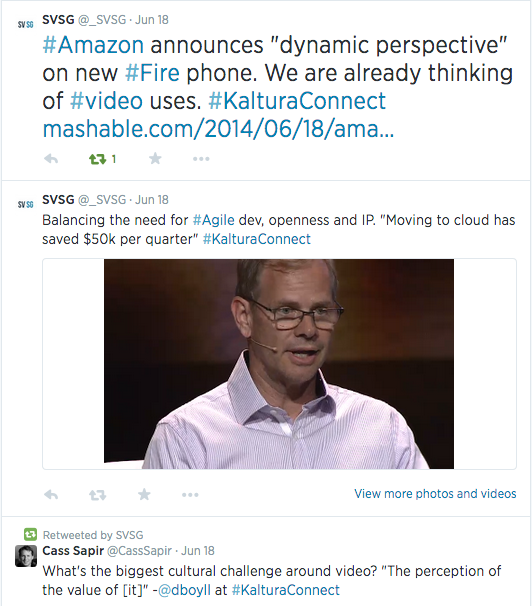 The time and effort spent in live tweeting can be as little or as much as you want depending on what you want to accomplish. But we'll tell you this much: you'll surely get something out of it no matter the amount of effort.
That's what we did for one of our clients, Silicon Valley Software Group, a CTO consulting company. As a company that is relatively new to the social media world, we didn't waste anytime in exposing them to the Twittersphere through live tweeting an industry conference - Kaltura Connect, a video experience conference.
We tackled this project from two standpoints:
The quantitative standpoint: This entailed tying back our efforts to the usual metrics: clicks, retweets, favorites, mentions, etc. These are important metrics to track success but we didn't want to get too bogged down in the numbers or we were going to miss a component that would help drive the success of those metrics. This comes from our second standpoint…

The qualitative standpoint: We like to think of this as humanizing the brand. We focused our efforts on connecting with attendees and influencers by adding value to the conversation, building trust and community through the shared experience. We sought to contribute to the intellectual community that came together for this conference.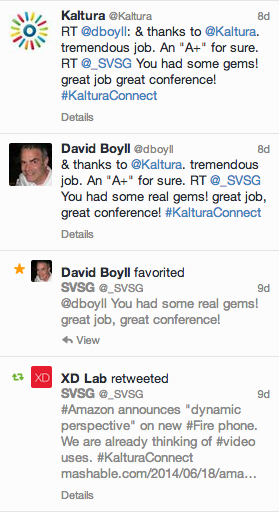 We first listened to what attendees were tweeting about during the conference to better gauge what they were interested in. This listening effort gave us insight to understand what information was being shared and what opinions they were expressing.
This helped us tee up and position messaging that would spark conversations and increase liklihood that key influencers would engage with us. We posted everything from an opinion about an industry topic or a comment we had on a particular stat that was brought up in a session. We were able to participate in the conversations attendees and potential prospects were having on social media.
We also engaged with attendees by retweeting content we found interesting and replying to some of the tidbits of information and opinions they had as the conference was taking place. These efforts are definitely a two-way street. If your brand doesn't engage with other people on social media how can you expect them to engage with you?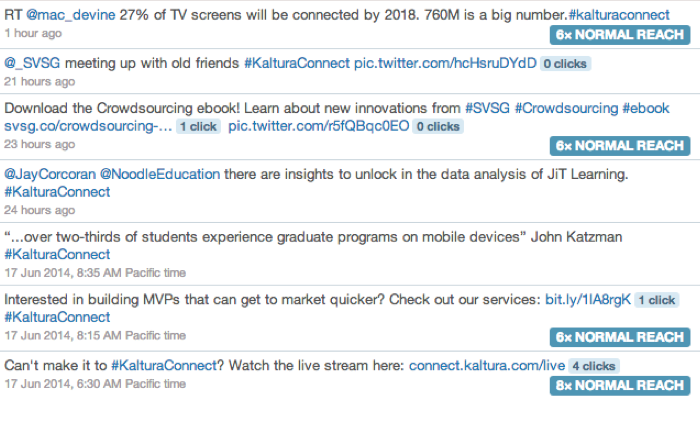 The conference was a great opportunity to promote SVSG's services but also as a way to introduce SVSG to the Kaltura community at large. The campaign success bore out in the numbers:
- 366% increase in clicks from the week before
- 400% increase in retweets from the week before
- 500% increase in favorited tweets from the week before
- Interactions with conference and industry influencers
Remember that your brand's social media channels have a person behind it. Don't lose the human touch when it comes to engaging with followers or even when you write copy for a tweet. Followers want to engage with a brand that doesn't feel like there's a robot behind the keyboard spitting out hashtags and typing fluff that no one understands. If you humanize the brand, social ROI will certainly follow.